[5호/2021.09][원문공개/English Ver.] Blowing in the wind? Or tangible in our flesh and bones?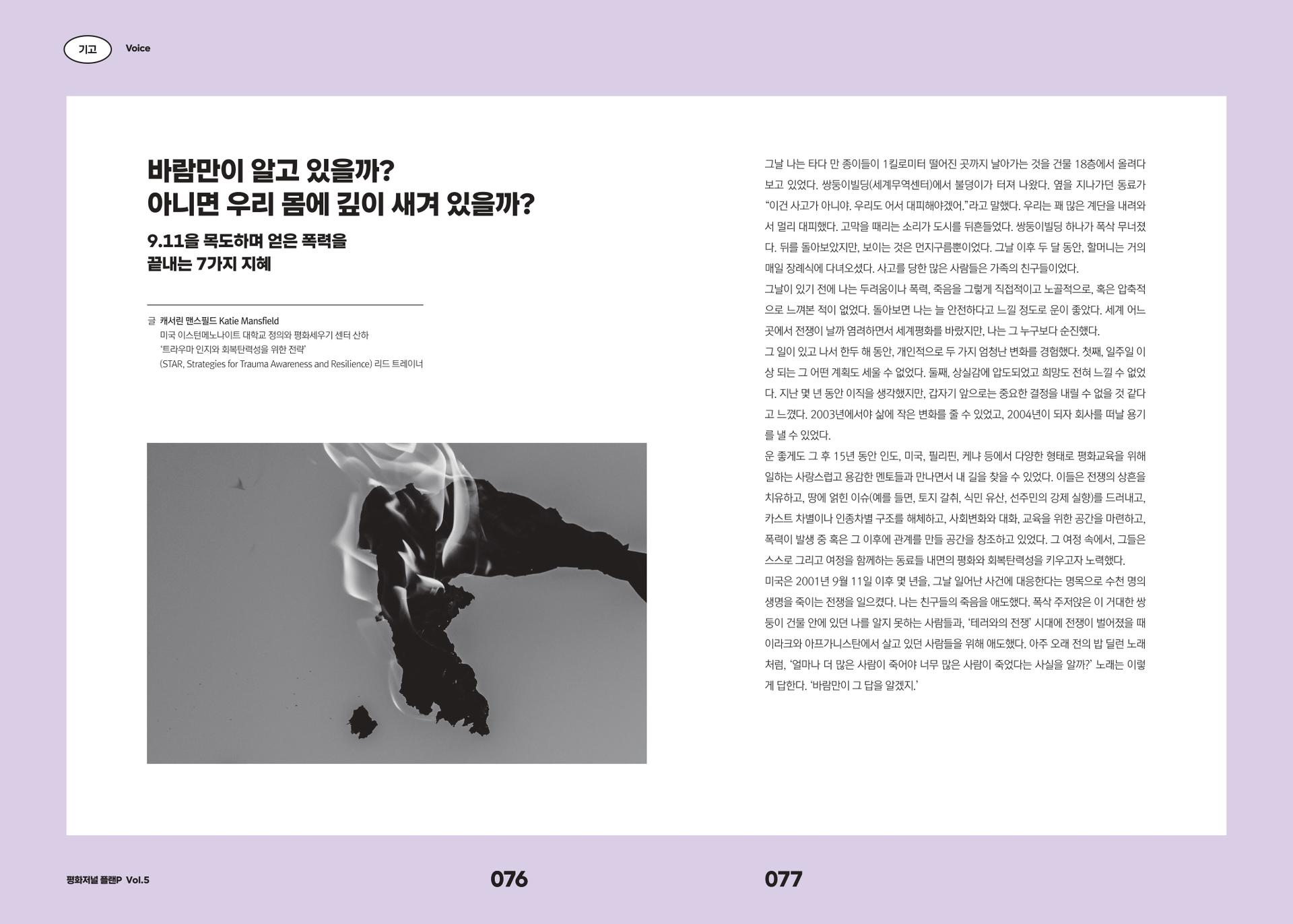 Blowing in the wind? Or tangible in our flesh and bones?
Katie Mansfield
Lead trainer
Strategies for Trauma Awareness and Resilience(STAR)
From the 18th floor, I looked up at a trail of burnt papers blowing in the wind from a burning building a kilometer away. A ball of fire blew out of the twin building. A colleague walked by and said, "It was not an accident. We need to evacuate." We walked down many stairs and then away. A deafening sound shook the city: the first building had collapsed. Looking back, I saw only the cloud.
In the following months, my grandmother attended funerals almost daily for two months. Many of the people who perished were friends of our family.
Before that day, I had not known fear, violence, or loss in such a direct, visceral, and collective way. Before that day, I was lucky enough – mostly – to have experienced safety. I had my concerns about war and desires for world peace, and I had a lot of naivete.
Personally, I experienced two major shifts in the following year or two: first, it became very difficult for me to plan anything more than five days in advance. Second, I felt hopeless and overwhelmed by the loss. I had been considering a career change for a few years, but I felt unable to decide. By 2003, I began to make some small changes in my life. By 2004, I developed the courage to leave the corporate scene.
Over the next 15 years, I was lucky enough to find my way to a series of loving and courageous mentors, all of whom were working in peacebuilding – in India, the US, the Philippines, and Kenya. They were healing wounds of war, addressing land issues (land theft, legacies of colonization, displacement of Indigenous People, for example), dismantling systems of caste discrimination and racism, and creating spaces for social change, dialogue, education, and relationship-building in the midst and aftermath of violence. Along the way, they worked to build inner peace and resilience in themselves and fellow travelers.
In the years since September 11, 2001, my country has waged wars that have killed many thousands of human beings, partly in the name of responding to the events of that day. I mourn my friends. I mourn the strangers, including those who were living their lives in Iraq and Afghanistan when war came back, this time as the "war on terror."
Bob Dylan sang, "How many deaths will it take 'til he knows that too many people have died?" The song's response: "The answer is blowing in the wind."
In these twenty years, I have encountered many creative and tangible answers to a question which has become much more urgent for me than it was before that day: how to put an end to violence? Today, I will look for the wisdom in my embodied experience of 9-11 and beyond.
1. Look up, down and around. What is happening in the environment? What is burning? Where are exits?
This applies not only in the moment of a violent attack. Violent - but widely unquestioned -structures prevent many people from accessing basic necessities such as food, safety, shelter, healthcare, and dignity. Forests are burning around the world; we are in climate crisis. We can be overwhelmed by hopelessness, yet it is possible to exit the toxic patterns that burn, oppress, punish, and deny access and dignity. Nonviolent movements have been powerful catalysts for needed social change (see work of Dr. Erica Chenoweth). It's possible for human beings to live with reverence and care for the planet, which is our primary source of safety and basic needs such as food, water, and air.
2. Try to find and provide safety and care.
In the face of overwhelming threat – such as an act of mass violence or even a pandemic – it can help to remember that there are different kinds of safety, including physical and emotional safety. Even when physical safety is questionable and we face grave uncertainty and vulnerability (for example, due to global health and environmental crises), we may provide emotional safety by listening to each other with compassionate presence. It's also worth working to reduce threats based on identity, economic or other status and improve access to care.
3. Look back – and know there is much that is impossible to see at first.
In the midst and aftermath of violence, it can be difficult to access clarity or full perspective. Harms often emerge as part of cycles of violence – as responses to a prior experience of harm – whether in the case of individuals or nations. It can be difficult to revisit painful past experiences, and sometimes time and distance are required. Public acknowledgement of past harms can play a role in preventing future violence, though process design of such truth-telling is not simple.
4. Mourn and grieve.
Grieving and mourning can be public or private. Even when there are clear cultural rituals, they may not meet all needs for reckoning with loss. Finding and making space for grief and mourning can reduce the pain one carries from loss.
5. Know there will be physical, mental, emotional, and spiritual impacts and needs. Attend to them. Healing is not linear and requires great care.
When we de-stigmatize the overwhelm that comes from grave loss, we humanize each other. Attending to the impacts and needs that emerge from violence can provide a foundation for peace. Ignoring those needs may fuel further violence.
6. Notice kindness, receive and give care.


In great crisis, people rise to help each other. More people choose not to engage in direct violence. Take notice of the many kindnesses and choices to opt out of violence. As peace practitioners, how do we encourage self-care and foster spaces for community care?
7. Tell stories and take actions that "lead to new futures" (Mehl-Madrona, 2005, Coyote Wisdom: The Power of Story in Healing). Be careful that the stories we tell about life-changing events do not fuel more violence.
When I went to the 9-11 Memorial in New York a few years ago, I was saddened and frustrated, partly emotions inherent in a journey to remember lost friends. The larger source of frustration and despair was the way the story was told. To me, the Memorial seemed to frame the day in a way that would justify more violence – against "the enemy." Somehow, the people who stepped into my journey helped me understand how we make enemies, and how we might engage creativity to make new stories and new futures, in which we hold each other sacred. P